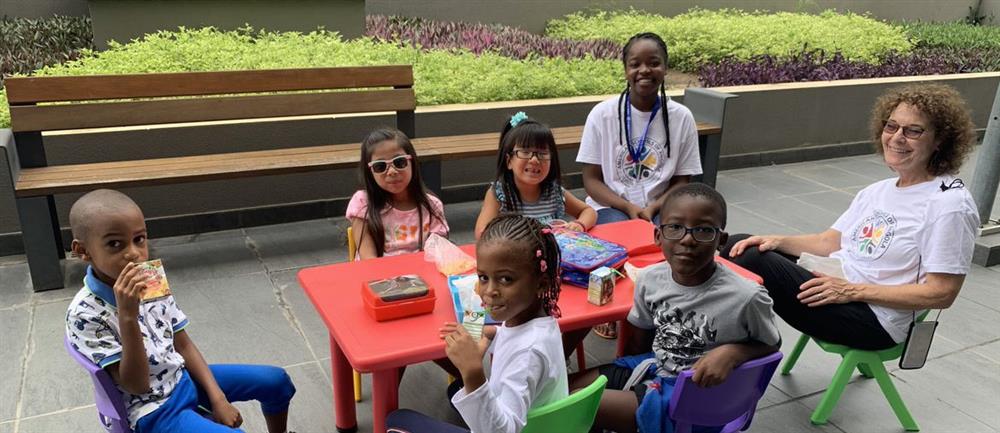 Healthy Living
Cafe Cuisine
A nutritious morning snack and a hot lunch are provided daily for all-day students. We are confident your child will appreciate the delicious Angolan-American menu!
Fridays are particularly special at ASA with our American classic dishes served with a side of music and games! Afterall, speaking English is just part of the culture we bring to school.
Filtered water
Students bring spill-proof water bottles daily to stay hydrated. We provide filtered water throughout our campus.
Mind-body-spirit
Preschool thru grade 8, our Humanities curriculum includes enriching lessons to build age-appropriate physical, social, emotional and behavioral skills.
These lessons include factual knowledge about developmental changes of the mind and body. Families have full access to any curriculum we present as part of our whole child education.
Physical Education
ASA offers varied sport, cross-fit activities designed to develop skills, teamwork, coordination and a realization of how exercise and sports contributes to one's overall well-being. The PE program is designed for physical fitness and to develop a healthy life style that includes exercise for total wellness.
·         Grades 6-9 learn martial arts, cross-fit, discipline and self-defense 
·         Grades 4-5 develop their physical dexterity and strength through games and light sport
·         Grades 1-3 play interactive games to refine their gross motor skills  
Uniformed image
We take pride in developing the leaders of tomorrow. We require all students to wear a clean classroom uniform and appropriate sport clothes as part of ASA dress code policy.
Parents are required to order/purchase through the school's tailor.